The patient-provider relationship is the cornerstone of healthcare.
Webinar
Over the course of the COVID-19 pandemic, that relationship moved almost entirely online. Telehealth visits accounted for as many as 40% of patient visits during April and May, and most patients reported positive experiences.
As we eye a future where in-person appointments open up again, some patients will eagerly book time with their PCP while others will happily use virtual tools to get care whenever possible.
That means healthcare systems need to be prepared to offer a range of care options to meet patients' expectations. Often though, more options create more confusion. During this webinar, we'll offer best practices for streamlining this experience and making it easier for patients to seek care, regardless of whether it is in-person or via telehealth.
Join this webinar to learn:
Why a hybrid care delivery model involving both in-person and virtual options is the best way to retain and acquire patients in 2021
Best practices for creating an ideal care pathway no matter where patients are ultimately seen
How to streamline both patient and provider workflows

Dr. Ray Costantini
CEO and Co-founder
Bright.md
Ray is a pioneering healthcare executive, innovative physician, and seasoned entrepreneur who is passionate about making healthcare better. Prior to founding Bright.md, he led the design, build, deployment, and operations of three groundbreaking telehealth and digital health products at Providence Health and Services, one of the largest health systems in the country. He also previously founded three successful companies and is a national speaker on healthcare innovation, telehealth, and patient engagement.
Rachel Woods
Senior Director
The Advisory Board
Rachel Woods has been leading and advising on research studies at Advisory Board since 2014, and she brings deep health care knowledge, strategic insight, and operational expertise to her hands-on work with executives and frontline providers. She frequently speaks at and facilitates retreats and leadership meetings and is known for her energetic and passionate teaching style. She is also the host of Advisory Board's five star-rated podcast, Radio Advisory, and has become a well-known voice and advisor to thousands of health care leaders.
Dr. Denise Gonzales
Medical Director, Telehealth and Adult Medical Specialties
Presbyterian Healthcare Services
Dr. Denise Gonzales is the medical director for telehealth and adult medical specialties at Presbyterian Healthcare Services in New Mexico. Denise has a deep passion for telehealth that is evidenced in her personal patient care and the clinical programs she serves. Within the past year, Denise has championed numerous telehealth initiatives to aid organizational efforts to care for patients during the pandemic, including deployment of ambulatory video appointments, inpatient video consults, outpatient remdesivir treatment, and more. Before joining Presbyterian in 2007, she served as a staff clinician at the National Institutes of Health for three years.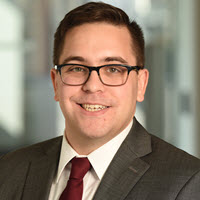 Adam Rubenfire
Custom Content Strategist
Modern Healthcare
Adam Rubenfire is Modern Healthcare's Custom Content Strategist. He is responsible for the development of webinars, white papers and other engaging content for marketers looking to target the healthcare industry. Prior to his current role, he served as Modern Healthcare's supply chain reporter. His work has also appeared in the Wall Street Journal, Automotive News and Crain's Detroit Business.
I lost/never received my GoToWebinar email. How do I get to the webinar?
When the webinar begins, click here and enter the e-mail you used to register for the event.
Re-Broadcast
The presentation slides will be available 48 hours AFTER the broadcast, and links to a video recording will be available on the same page.
Technical Questions
If you have difficulty logging into the webinar, can't hear the webinar or other technical questions, please call GoToWebinar's technical support line at 1-800-263-6317. If you are unable to view the webinar, you can still listen via the GoToWebinar phone number in your registration email.
You may be contacted by the sponsor of this event.
Source: Webinar: Enabling a hybrid care model — Streamlining the patient path to both telehealth and in-person care
Related